Kamado Joe



Reasons to choose a KAMADO JOE BBQ OVEN

SUPERIOR TASTE
Kamado Joe BBQs make food taste better, because they are ceramic and act like an insulator to make food incredibly juicy and tender. Our BBQs only use 100% natural lump charcoal, which infuses a true charcoal flavor like cooking over a wood fire.

READY TO COOK IN 15 MINUTES
A common misconception is that our BBQs take a long time to heat up. The truth is that Kamado Joe BBQs are ready in as little as 15 minutes; the average time it takes to preheat a gas BBQ. We're often confused with briquette charcoal BBQs, which can take more than 30 minutes to heat up.

AN OVEN, STOVE, BBQ AND SMOKER
Kamado Joe BBQs allow you to smoke, bake, roast, BBQ and sear with a simple adjustment to the air flow and by using direct or indirect heat. Not to mention a cooking range as low as 82°C to over 399°C, which most BBQs cannot achieve.

EFFICIENT AND ECONOMICAL
A Kamado Joe BBQ is likely to be the last BBQ you'll ever need to buy. That's far more economical than buying a new BBQ every few years. Also, our 100% Natural Lump Charcoal is very efficient and it can be relit for multiple cooking. You can't do that with gas or briquettes!
Components and Specifications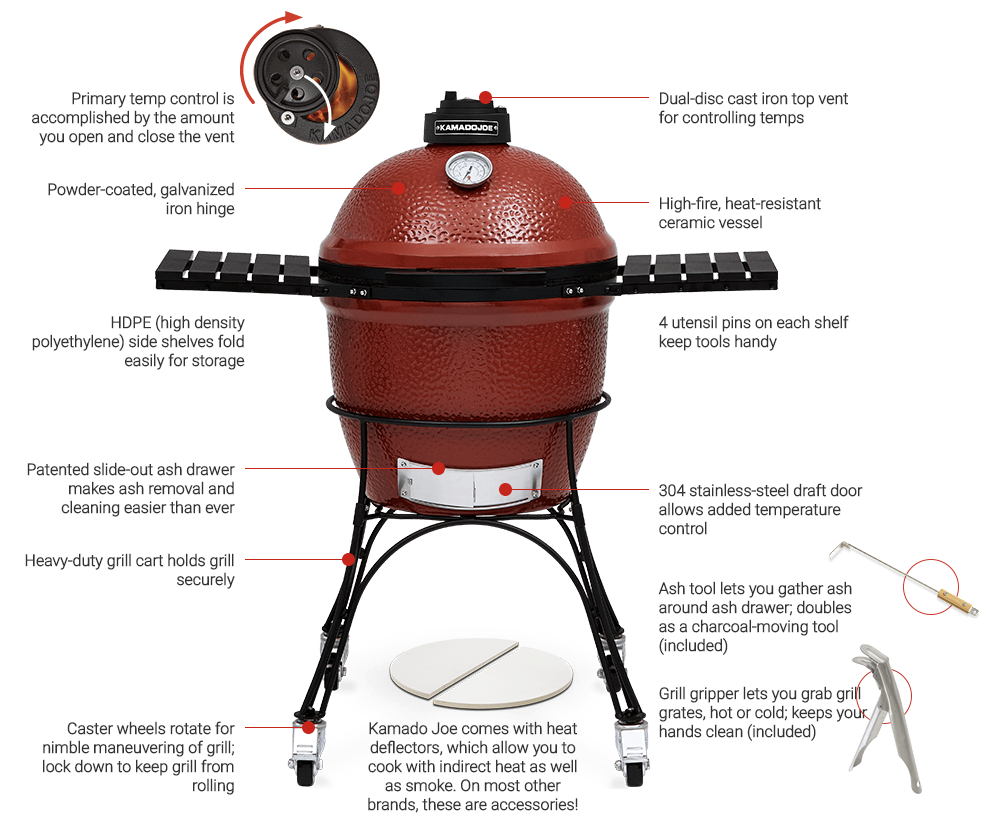 More About Kamado Joe
History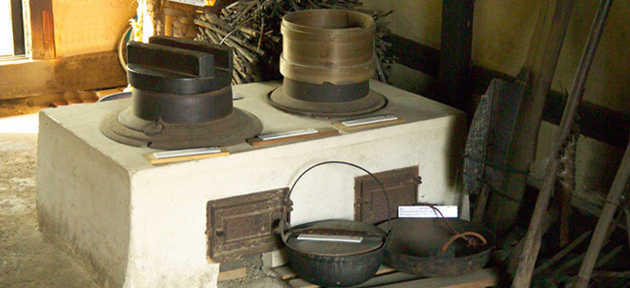 Clay vessels have been used by humans to cook food for many thousands of years. Clay cooking pots have been found in every part of the world and some of the earliest dated by Archaeologists to be over 3000 years old have been found in China.It is believed that in these circular clay cooking vessels are the origins of the modern Kamado albeit the clay finally being superseded by ceramic materials.
All over the globe this elementary cooking vessel has evolved in many different ways, the tandoor for example in India and in Japan, the mushikamado; a device designed to steam rice and used by Japanese families for ceremonial occasions.
The mushikamado was a round clay pot with a removable domed clay lid and was typically found in Southern Japan. Innovations at this time included a damper and draft door for better heat control and it was found to be fueled by charcoal rather than wood.
The mushikamado first came to the attention of the Americans after the Second World War. The name "kamado" is, in fact, the Japanese word for "stove" or "cooking range".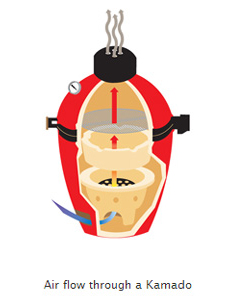 A big advantage of a ceramic grill is versatility - the ability to grill, smoke and sear. At Kamado Joe, we give you everything you need to grill, smoke and sear. We think that only makes sense. Yes, a Kamado Joe comes with all that!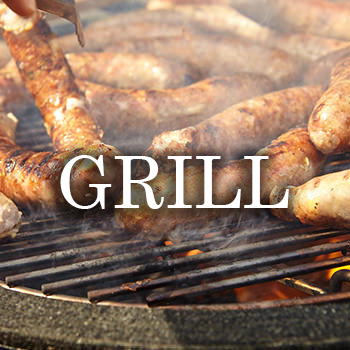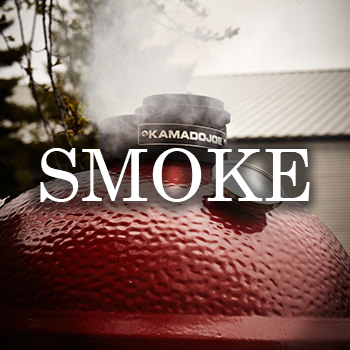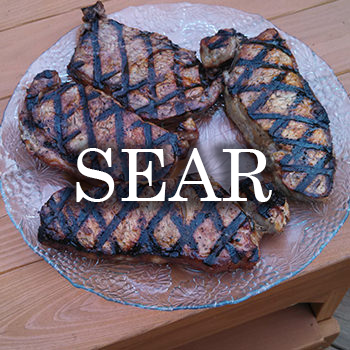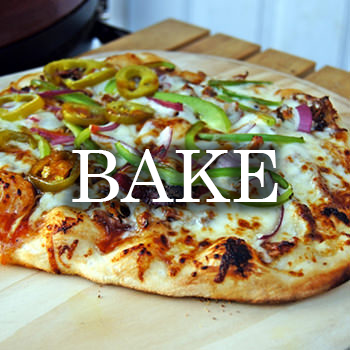 Flat out the best ceramic grill on the planet! That may be a bold statement, but we invite you to look under the hood and see for yourself! If you compare Kamado Joe Ceramic Grill with other ceramic grills on the market, you'll soon recognize that Kamado Joe's the best built grill on the market and that fit and finish are second to none!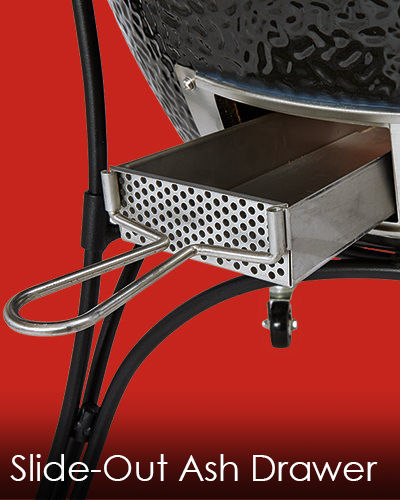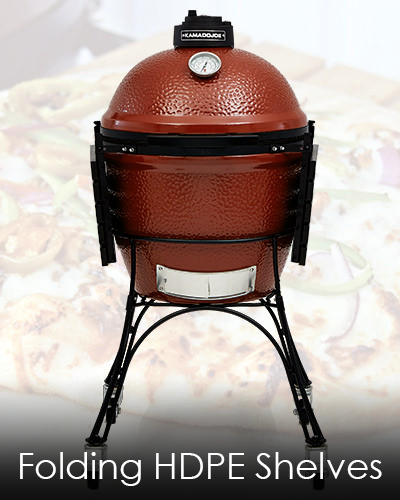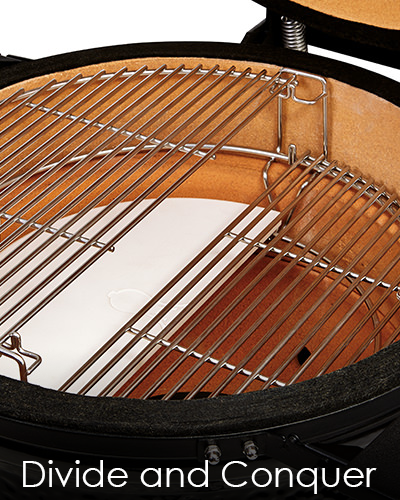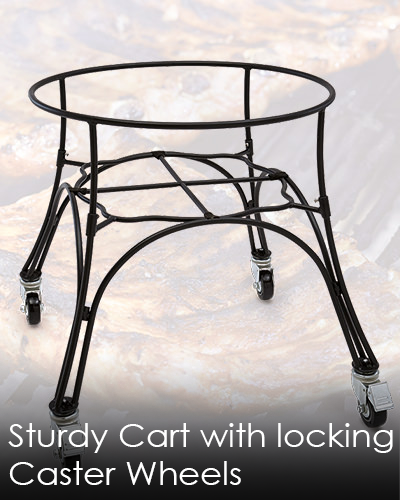 Kamado Joe - It Comes With All That?
Divide and Conquer Flexible Cooking System
Kamado Joe - Grilling
Simple grilling techniques on the Kamado Joe grill
Kamado Joe Beer Can Chicken
Honey Hog BBQ
Kamado Joe Chicken Wings
Here's some chicken wing ideas
Kamado Joe - Baking
The concept of baking a pizza
ASSEMBLING YOUR KAMADO JOE GRILL
How to unpack and assemble your Kamado Joe grill.
CONTROLLING THE TEMPERATURE
How to adjust the air flow of your Kamado Joe Grill
BAKING BASICS WITH KAMADO JOE
Learn to bake with your Kamado Joe grill
SMOKING BASICS WITH KAMADO JOE
Learn to smoke with your Kamado Joe grill
GRILLING BASICS WITH YOUR KAMADO JOE
Learn to grill with your Kamado Joe grill.
Kamado Joe - Care and Maintenance
Care and maintenance procedures
Kamado Joe - Controlling your Temperature
This video describes the process of using the air vents
Lump Charcoal & Starting Your Fire
We take a look at hardwood lump charcoal and how to start a fire