The combination of a Grandfire Kamado together with a Grandfire BBQ gives you the best gas and ceramic cooking right at your fingertips.
Have the choice of grilling for those quick meals and as a traditional BBQ, or roast and bake for those special occasions.
Combo 26" - Grandfire Classic 26" BBQ and 18" Grandfire Kamado on a stainless steel table
Full commercial grade stainless steel
Stainless steel grill & hotplate
Warming rack
Removable drip tray
Double skinned stainless steel roasting hood
Stainless steel flame tamer
2 x U-shaped tube burners
Heat output 2 x 16.8 MJ/H (15,920 BTU)
Piezo ignition system
Two foldable side shelves
Robust Zinc cast knobs
Gas bottle slide out tray
10 Year warranty on stainless steel
*Optional: Rotisserie kit, single side burner & protective weather cover
The GrandFire Kamado BBQ brings together these age old cooking techniques and blends them with todays technology. The amazing heat retention properties of ceramics enables temperatures up to 399 Celsius meaning the GrandFire Kamado can be used for cooking meats, smoking fish and even baking!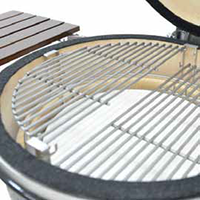 Semi-circular Split Cooking System
Semi-Circular 304 S/S grates and 3-tier rack enable multiple different cooking options.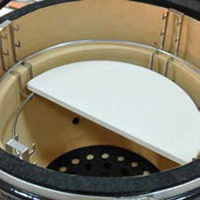 Semi-Circular Heat Control System
Semi-Circular adjustable ceramic heat deflectors provide combinations of direct or indirect heat, creating multiple different cooking styles in seconds.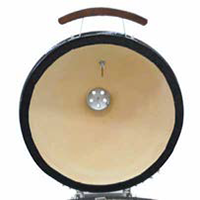 Dome & Base Construction
Internal Heavy Duty Ceramic surrounded by a heat-resistant glaze coated outer shell, provides full protection from any harmful external heat build-up.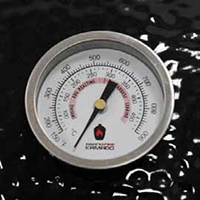 Quick Response Thermometer
Large quick response thermometer with dual temperature indicator.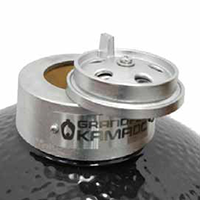 Temperature Control Top Vent
High Grade Stainless Steel top vent enables easy, responsive temperature control.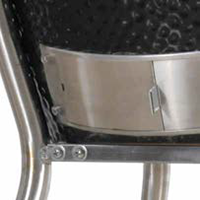 Temperature Control Lower Vent with Ezi-Clean Ash System
Lower vent control allows for additional fast effective temperature control with an easy removable ashtray.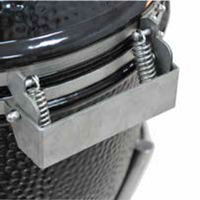 Heavy Duty Hinge & Bands
Heavy Duty 304 Stainless Steel Hinges and bands built to withstand heavy loads and tough environments.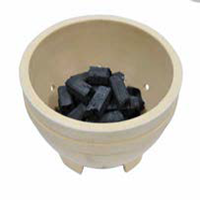 Fire box
Heavy duty fire and heat resistant ceramic prevents structural cracking.
Bamboo Handle
Curved sleek design made from tough, sustainable bamboo, never gets hot to the touch.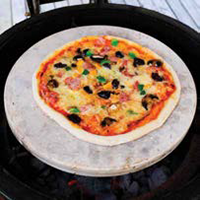 Pizza stone
Perfectly sized ceramic pizza stone is included with every Grandfire Kamado.
Commercial Grade 304 Stainless Steel Construction*
Not all stainless steel is created equal. Most 'stainless steel' is a very low grade that will quickly rust if left in the weather. Our BBQ's use 304 grade stainless for the BBQ and hood. 304 grade is considered the best grade for use in quality BBQ's and is the grade most often used in commercial restaurant kitchens. We use 443 grade stainless steel on our BBQ Cart, which is harder and therefore best suited to cart construction. The gauge or thickness of stainless steel should also be considered when choosing a BBQ. Check the weight of our BBQ's against those cheap options on the market. You will find our BBQ's are up to three times heavier than others. And when it comes to BBQ's, weight matters!
*Head Unit and Hood
10 Year Stainless Steel Construction Warranty
A BBQ's warranty is one of the best determiners of product quality.

Our 10 year BBQ warranty is one of the best BBQ warranties available.

The warranty covers the structural integrity of our stainless steel.
Precision Welded Construction
All our BBQ's are precision welded to provide unsurpassed strength and rigidity. Welding of the joints also protects against corrosion, as there are no exposed edges that can rust over time. Welding is considered superior to screw or bolt fastenings which can become loose over time, causing the BBQ to lose integrity.
Reinforced Double Skinned 304 Stainless Steel Roll Top Roasting Hood
The hood of every BBQ is hand fabricated from the best 304 grade stainless steel. The hoods are double skinned for heat retention leading to oven temperatures in excess of 350 degrees. Unlike rear hinged hoods, the mid hinged roll top hood of our BBQ is a breeze to open and close, despite being twice the weight of an average BBQ hood.
Super Heavy Weight Commercial Grade Stainless Steel Cooking Surface
These BBQ's feature 4mm solid stainless steel cooking hotplates. Stainless steel plates last longer than other plate types. They are also the most hygienic plates because of their easy clean nature and will never be prone to paint or rust flaking, which often occurs with porcelain coated or cast iron hotplates. These hotplates are warrantied for 5 years.
Integrated Solid State Individual Burner Ignition
Grandfire Deluxe BBQ's feature solid state, mains powered ignition on each burner and is recognized as the most reliable ignition system available. The solid state ignition system guarantees instant and trouble free ignition each and every time.
Full Width Front Access Stainless Steel Drip Tray
Many BBQ's use a tapered base and drip cup to capture fat that passes the flare control system. However this leads to a build up of fat inside the BBQ that can lead to fat fires. Our BBQ's use a full width drip tray that is accessible from the front of the BBQ making regular cleaning extremely easy.
Professionally Pre-Assembled
Time is precious and you don't want to spend your valuable time assembling your newly purchased BBQ. Our BBQ head units are preassembled by our professional assembly team before leaving the factory. Not only does this save you time, but you can be assured that your BBQ has been assembled to the highest standards, with no parts left over! Even our BBQ carts come mostly assembled. Just attach the castors and door handles and you are good to go.
Heavy Duty Cast Alloy Castors
Our freestanding BBQ's weigh considerably more than many other BBQ's, and so they need castors that are able to handle their hefty weight. Plastic componentry would not stand the test of time and therefore our BBQ's feature heaving duty, cast alloy casters with an integrated locking system.
Chrome Plated Zinc Cast Control Dials
Plastic control dials split and break over time. In order to ensure that your BBQ's dials last the distance, all our BBQ's are supplied with cast zinc control dials that are extremely durable and corrosion resistant. They also offer a high quality and durable 'feel', something that you would expect in a leading BBQ brand.
Flexible Alternate Natural Gas Conversion Option
For maximum flexibility all our BBQs can be optionally converted to natural gas by the addition of our natural gas conversion kit which contains everything needed for simple conversion by a qualified gasfitter.