More available grilling space than any other grill!
Big Joe is the workhorse of the grill world. It offers more available grilling surface than any other ceramic grill. That means more burgers, more sausages and more steaks. And more friends with grill envy!
NEW STANDARD FEATURES FROM 2014!
We are committed to continued innovation and to offering you standard features that will enhance your grilling experience from start to finish.
DIVIDE & CONQUER
Cook on multiple levels on multiple surfaces at once!
Twice the overall cooking surface
Multi-level cooking (sear a steak and grill veggies at the same time)
Create different heat zones
Specialty surfaces also available
Superior Taste

If you put a priority on taste, then BigJoe is the grill for you. The ceramic shell acts as an insulator to keep the natural oils and moisture in food. It means that meat and other foods have incredible juiciness and tenderness. Metal grills have the opposite effect; they radiate heat and actually pull the moisture out of the food.

BigJoe uses 100% natural lump charcoal as a heat source for true charcoal flavor. It is made from a blend of hardwood trees, and it gives food a signature charcoal flavor that cannot be achieved with gas, electric or briquette charcoal grills. Natural lump charcoal offers the same flavor as cooking over a wood fire.

Grill restaurant-quality seared steaks in 5 minutes, roast a 22lb (10kg) turkey or smoke a beef brisket to tender perfection. You can even bake your own wood fired pizza. You'll never go out for pizza again.

A Grill, a Smoker and an Oven

BigJoe allows you to grill, smoke, roast and bake with a simple adjustment of the air flow and the use of the heat deflector. Cook from temperatures as low as 225°F (107°C) to over 750°F (398°C). No other grill offers this much versatility. The bottom line is that you can cook anything on a BigJoe.

Easy to Use

The beauty of a BigJoe grill is it's simplicity. The combination of natural lump charcoal and air flow allows you to easily adjust and maintain any temperature over a long period of time. You can set the temperature at 225°F (107°C) for a long low and slow cook and it will maintain that temperature for over 12 hours.

Ready to Cook in 15 Minutes

BigJoe is easy to light and you can be grilling in as little as 15 minutes. The same time it takes to preheat a gas grill.

Built with quality ceramics and 304 stainless steel. BigJoe is built for the most demanding climates.

BigJoe. True charcoal flavor. Unmatched cooking versatility.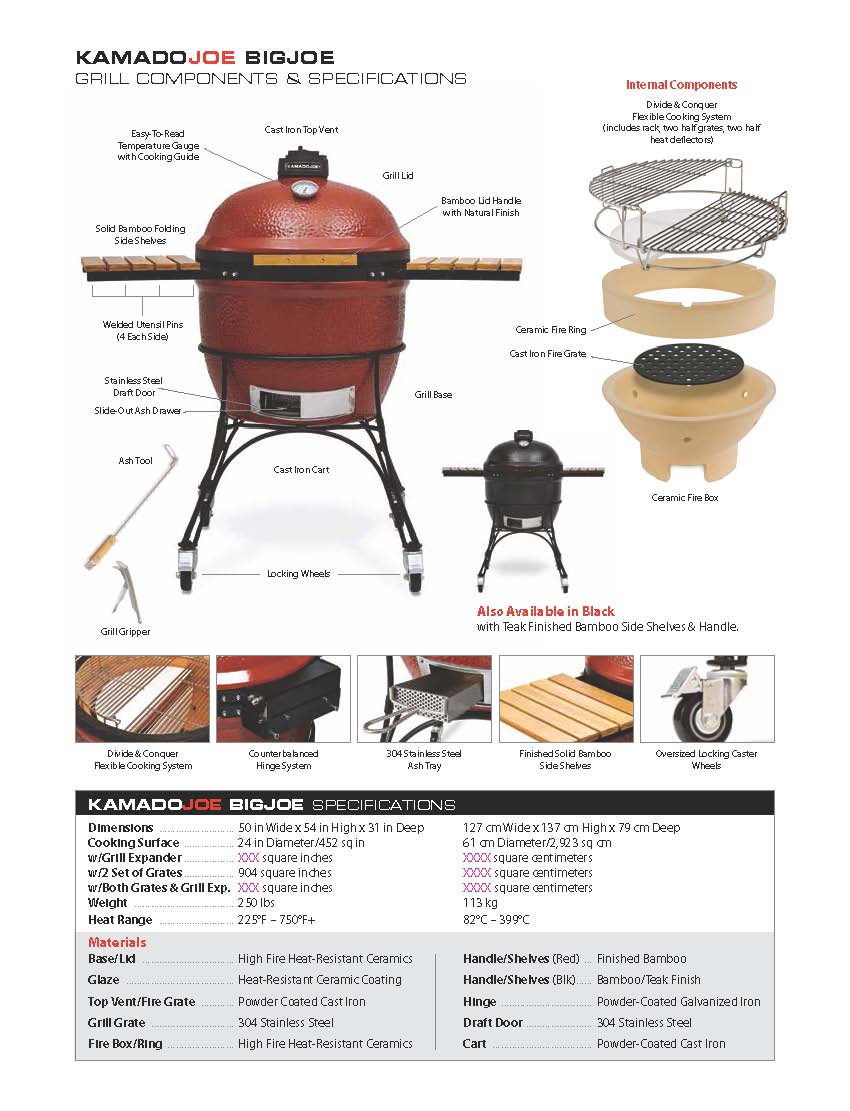 INCLUDES:
Premium 24" Ceramic Grill with Sturdy Cart
Locking Wheels
Built-in Thermometer
High Density Polyethylene Folding Side Shelves/Handle
Divide & Conquer Flexible Cooking System: - New, now standard from 2014
Multi-Position Stainless Steel Rack
Two 304 Stainless Steel Halved Grill Grates
Two Ceramic Halved Heat Deflectors
Patented Slide-Out Ash Drawer - New, now standard from 2014
Grill Gripper
Ash Tool
Dimensions
Weight: 113kgs
Overall: Height 127cm Width 137cm Depth 79cm